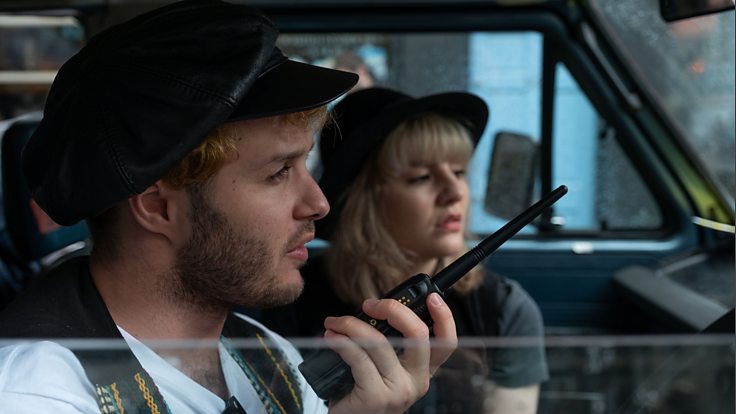 I've had a few career-defining moments, but this last one is incredibly meaningful to me. It involves a delicious cast of characters that have enriched my life immeasurably. To Ruth, Philippa, Arthur, Nadeem, Reece, Fergus, Liz, Shreya and Mat. Thank you.
The phone call 
It was July 8th 2021. It was cloudy – the temperature a moderate 22C, not untypical of a quintessential English summers day. I was at home, happy that my plans were panning out in my shifting career path. At 12:07, I was lying on my bed, just…reflecting on life, really, when the phone beeped. It was non-other than the actress Ruth Madeley.
Ruth and I had met on a pilot about a year and a half prior. It was one of those "favour" jobs with the promise of "future opportunities." I had five (or so?) cast to do hair and makeup for…, and Ruth was one of them. She was a delight, as were the rest of the cast to be fair; however, the interactions were brief and fleeting.
We stayed in touch sporadically over social media, with a like here and comment there. Still, nothing to say that I had "imprinted" on her – so when she called me on that moderate July afternoon, it came as a real surprise.
She would be staring in a groundbreaking drama about disabled people, made by (predominantly) disabled people. It was written by prolific screenwriter Jack Thorne and the actor-turned-writer Genevive Barr. To be directed by Bruce Goodison and Amit Sharma⸺and wanted to know if I would consider designing the hair and makeup for the film.
The conversation went a little something like this: "Hey, are you busy at the moment?" I replied, "as in right now, or just in general?". To which Ruth responded, "Generally. I wanted to know if you would be up for designing my new show…we start preproduction on Monday and begin shooting a week later." I can only imagine saying something along the lines of "righttttt…let me speak to the Producer before I make any decisions".
(Now, for anyone who doesn't know… a week of pre-production for an hour length period drama, based on real-life events, without a team, is, let's not beat around the bush here…insanity. Especially when all the other HODs had been on the job for at least a month already.)
Despite having decided to leave the industry in the capacity of a hair & makeup artist, I still had some kit to finish up before I could walk away entirely. Then there was the fact that I could be a tiny part of telling this astonishing, important true story about "the group behind the unstoppable and fierce campaign of direct action that significantly moved forward the battle for disabled rights in Britain." While admittedly naive about the experience of disabled people, or the fight for their rights, I had recently written a sustainable beauty report for WGSN about Universal Design which had opened my eyes somewhat. Real inclusion was an issue that I had become increasingly aware of and increasingly vocal about regarding the 'sustainability narrative'. And then, of course, it's not every day that one of Britons rising stars calls you up out of the blue and asks you to design the most important role of her career to date.
This, I felt, was a perfect swan song opportunity. But I had no idea how significantly the people involved would impact my life.
12 July – 7 August 2021
I've never been one to shy away from a challenge – and this job had its fair share.
First of all, I needed a team to help me pull this off, during a pandemic, with everyone I knew telling me that everyone they knew was already working. Now, despite the usual cesspit that is social media, it's undeniable that it has its advantages – and pulling together a team of gung-ho hair and makeup artists wanting (and willing) to work in this crazy industry is one of them! Not to mention them having to work with me, a very particular designer (not so much about the usual things, but rather waste reduction, using eco-ethical products and practices, thinking outside the box, and using unfamiliar technology to do their script breakdowns) whose brain works at a million miles a minute and, aside from everyone's wellbeing, my biggest concerns were how I was going to divide my kit up and who was going to take all wigs at the end of the job.
Then, of course, there was COVID, which involved regular testing, obscene amounts of money, excessive waste, rigorous protocols, last-minute changes to availability and dividing my team – both physically and metaphorically.
Normally, the hair and makeup team will work out of a specially designed truck. But the thing about 'normal' in this industry (and society at large), is that it's downright ableist. Consider for a moment, if you will, that anyone in a wheelchair, or of small stature, or any has mobility issue really, will struggle, or in most cases can't actually access the vehicle at all. And even if they could, there would not be space to accommodate their wheels, with the heavy barbers chairs taking up the space where they needed to be. This is why we had makeshift hair and makeup rooms, which meant our cast could be made up in (relative) convenience. Not having a purpose-built space, however, also comes with its challenges – such as where to wash and colour hair, or clean people down after a paint fight, for instance. Or how I was meant to move everything from one location to another without a vehicle?
There were the long hours, big personalities, high emotions, tight budgets, and an unsustainable shooting schedule – all things that have become so normalised in this industry…but are anything but normal.
But you know what, despite all of that (and more), what I remember most was the laughter… and the tears of pride and awe from raw, honest and impeccable performances from the cast – and a crew who pulled together to bring this story to life and honour the real-life hero's this film was inspired by. I felt an unusual sense of calm – in spite of the pandemonium of filmmaking – in a way I had never experienced before. I'm still not entirely sure why I reacted this way, but it stuck with me.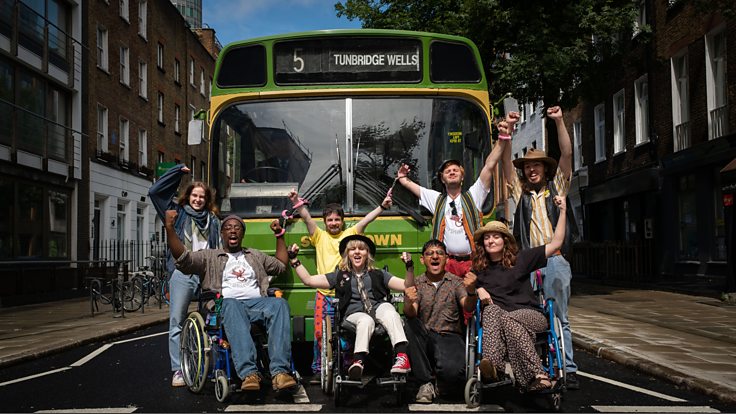 Important Reminders
It was en route to the wrap party, and I was sat in the car with Ruth, Fergus, Nadeem and Reece and another omnipresent SA (supporting actor) whose name I ashamedly cannot remember (and whatever remained of my hair and makeup kit), I vividly recall thinking to myself how this incredible bunch of people I'd been working with for the past four weeks were a reminder of how to really live life. It played out in slow motion and felt like the scene had been scripted, choreographed and rehearsed to perfection, and I was watching it unfold before my eyes.
These actors – Ruth and Arthur in particular – had spent weeks giving us every part of themselves through their performances, often through physical and emotional discomfort, whilst braving the elements – and still, they were able to find the energy to go out, sing at the top of their lungs and just exude life. I don't have a better word to describe it. I was witnessing something I had not seen or experienced in a very long time, in a way I don't really have the words to explain. And aside from some questionable taste in music, it was sheer joy to witness, and the reminder I need.
Privilege is a trending topic at the moment – and often for all the wrong reasons. So I'd like to take this opportunity to try to articulate how privileged – for the right reasons –  I feel to have had the opportunity to work with such talented actors, technicians and creatives and all-around sensational human beings. I feel cheated, that it's taken until my late 30's to have been truly exposed to people with different capabilities to my own – and that is a symptom of our society's design. My life is richer for them being it and for the experiences we shared. 
As an able-bodied (albeit clumsy as hell) person, it's so easy to take for granted the most basic of human rights and human needs and am reminded – yet again – that something as simple as good quality communication and empathy for our fellow human beings can make this world just that little bit easier for all us.
And to anyone reading this, if you have the good fortune to spend any meaningful time with a group of complex, beautiful, powerful, resilient and capable people who just so happen to be disabled – or just different to you – grab it with both hands because I can promise you, your life will be richer too.
To Ruth, thank you for being a lioness. I don't believe I have ever met anyone quite like you. To Pippa, thank you for being my calm, Nadeem, thank you for seeing me, Reece, thank you for being my buddy, to Arthur, thank you for letting us colour your hair the most God-awful shade of yellow and loving it well beyond it's an expiry date, to Liz, thank you for your honesty…and to Mat, thank you for being you.
To Amit and Bruce, thanks for trusting me. To Natalie, thanks for bringing me up to speed with the project and your effort and integrity to the costume – you and your entire team were a delight to work with.
Finally to my team Rachel, Gemma, Bendon, Chloe, Leanne, Patrice, Rashina, Craig, Hannah, Nancé, Paige, Cara, Rebecca and Natalie – I couldn't have pulled this off without you. I only hope that the things you learned here will serve you throughout your careers – even in small the smallest of ways.