Prologue
In November 2019, I decided that it was time to commit to a new path. After nearly two decades of being a professional hair and makeup artist (as my main source of income and outlet) and nearly a decade of championing and promoting eco-ethical beauty for people and Planet…I had reached a crossroads.
But, in honour of the work I had been doing since 2012, and with respect for the land and people that it took to create the mountain of makeup, hair and skincare I had acquired, the only solution was a slow journey to my new charted destination. My route out of the world I had known for so long was to finish what I had, and not replace what I had finished. That was great, in theory, but then COVID-19 hit so the journey is taking longer than I had anticipate. No doubt I will have to discard more than I had anticipated. A reality of fleeing, I guess.
I have accepted though, that on a personal level, the time away from painting faces probably ensured that I committed to my new route, whereas I would have likely stayed in my comfort zone if I had had the opportunity to remain. I am happy to be on this journey. One that feels like I am finding my way home after feeling lost in the wastelands for far too long. (I say wastelands because there is not much wild wilderness left).
It's been too long, my old friend
While #lockdowns served as a pause for me, it also meant that I couldn't look through my lens at any other human form (I got pretty inventive with taking photographs of flowers though!). So these images are the first in nearly 14 months. My heart sang taking them – not only because I was able to capture a face as I see them, but because of the face I was capturing too.
I had come to know Esme through a screen over the last several months. (She was our intern at Conscious Beauty Union. Without Esme, we would never have been able to launch our new membership site.) 
We had been chatting about doing a shoot for months, in part to continue my goal of finishing as much of my kit as possible, but also to meet in person – and hopefully provide her with some new beauty shots for her already very impressive portfolio. 
While these photos were not intended to live anywhere in particular, (but rather to exercise a muscle that hadn't been used in many months) I still needed a narrative to ensure I remained focused. That's the way my brain works. So this little story, 'Exploring Esme Island' is a photo journal of getting to know someone in real life…albeit through my lens. While no (wo)man is an island, there is something quite magical in not losing sight of the individual.
Esme struck me more like a Scottish isle than that of a far off tropical counterpart…although I have to say, she is a little fruity. And I like that.
Here's to more exploring!
I drew initial inspiration from the Master of landscape photography, Ansel Adams. Of course, the result is nothing like his masterpieces, but the spirit of exploration lives on. 
Here's my little note on how and what I planned to shoot, and how. We got through most of these, abandoned others and discovered new territory we hadn't known existed.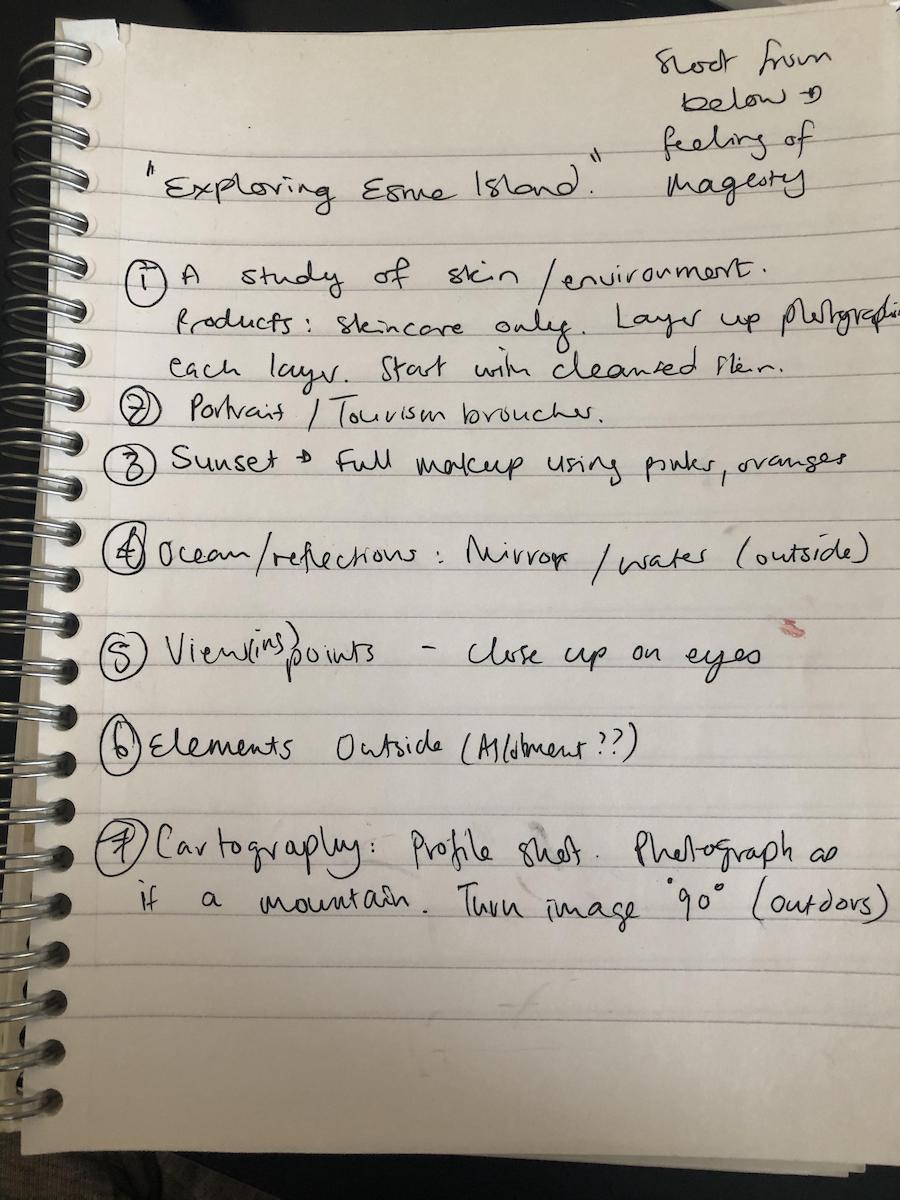 "Cartography (/kɑːrˈtɒɡrəfi/; from Greek χάρτης chartēs, "papyrus, sheet of paper, map"; and γράφειν graphein, "write") is the study and practice of making and using maps. Combining science, aesthetics, and technique, cartography builds on the premise that reality (or an imagined reality) can be modelled in ways that communicate spatial information effectively."
Here Esme explored her own face using the principles of my (he)art therapy from The Beautiful Art of Letting Go.